Skip Navigation
Orders Fulfilled By: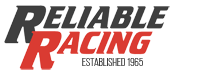 order history
You are not logged in. If you have previously placed an internet order, you can log in by
clicking here
. It is not necessary to log in if you are just checking your order status. Just enter your
Account Number
or
Order Number
below.
Reliable Racing makes no claims of merchantability or representations of safety either expressed or implied for Bobble Poles and Bobble Barrels.
No assumption may be interpreted beyond the product description as given, except as provided by law. Users of these products do so at their own risk, to themselves and their animals.